back
the art of CMB
The Art of
Cicely Mary Barker

The Robin's Pincushion Fairy
People come and look at me,
Asking who this rogue may be?
-Up to mischief, they suppose,
Perched upon the briar-rose.
I am nothing else at all
But a fuzzy-wuzzy ball,
Like a little bunch of flame,
I will tell you how I came.
First there came a naughty fly,
Pricked the rose, and made her cry;
Out I popped to see about it;
This is true, so do not doubt it!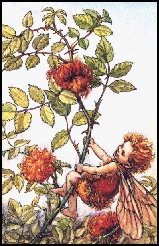 back
the art of CMB